Introducing our New Delivery Service
At HAL YAMASHITA Tokyo, we have started a new delivery service.
The delivery menu includes a variety of savory Bento Boxes made delicately by our chefs;
Kansai-style Udon Noodles brought to you by NADABAN by HAL YAMASHITA;
sweet Pastry delights made by our professional pastry chefs!
Enjoy the flavors of a restaurant at the comforts of your home!
We will deliver the items straight to your doorstep!
Zhoosh up your home dining meals with restaurant-quality ingredients and flavor!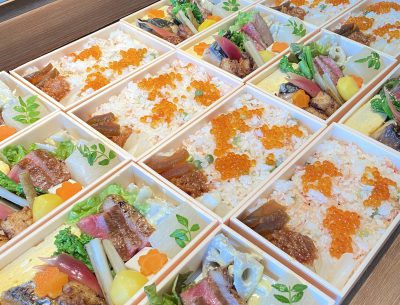 ━…━…━…━…━…━…━…━…━…━…━…━…━…━…━…━…━…━…━…━…━…━…━…━…━…━
Pre-order or order up till 1 hour before for same-day delivery! 
Delivery
Free delivery for orders more than 5000 yen (Standard delivery fee: 500 yen)
Delivery Area: The delivery area varies depending on the day of the week; please check the content below.
Monday      Minato and Meguro Wards
Tuesday      Taito and Bunkyo Wards
Wednesday  Shinagawa Ward
Thursday   Chiyoda and Chuo Ward
Friday      Shinagawa Ward
Saturday    Minato and Shibuya Ward
Sunday    Setagaya Ward
※ We do not deliver to other locations
※ Please check if your desired delivery date matches the stipulated delivery area day
※ Please take note that we may not be able to accept reservations if the desired delivery date does not match the stipulated delivery area day.
Delivery Time: 12:30 pm and 5:00 pm
Customer Pick-Up
Locations:
① HAL YAMASHITA Tokyo (Tokyo Midtown)
② NADABAN by HAL YAMASHITA (Tokyo Midtown Hibiya)
③ HAL YAMASHITA Production Atelier (Kyojima, Sumida Ward)
※ Please specify the time you would like to pick up your order in the online form.
※ For pick-up orders that were charged with the delivery fee, 500 yen will be returned to you upon
collection of your order at the store.
Order Online Here
Last order for delivery at 12:30 pm → 10:00 am
Last order for delivery at 5:00 pm → 4:00 pm
(Pick-up is also available at certain locations, for pick-up timings please contact us)
Payment Method: Paypal Credit Card Payment or Cash on Delivery
For Telephone Reservations:
HAL YAMASHITA Tokyo
03-5413-0086
・The delivery time stated above is an estimate for reference.
・There are only 2 time slots are available for deliveries in a day; at 12:30 pm and 5:00 pm.
We do not offer any other delivery time slots.
・Delivery times may vary due to certain circumstances such as traffic conditions and bad weather;
We seek your understanding in this matter.
・Items will be delivered in a refrigerated truck.
・Items can be delivered to your doorstep, mansion building front desk or a street in front of your home
and etc. Please specify where you would like to pick-up your order.
・The driver will call you when your order is arriving.