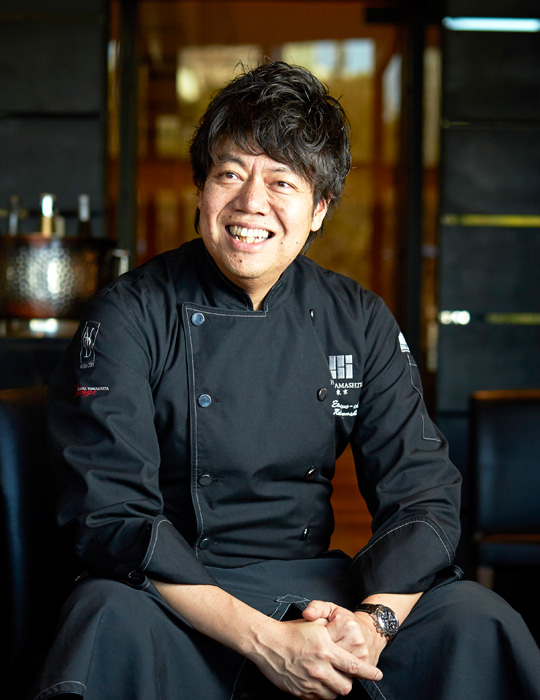 CHEF HAL YAMASHITA
Executive chef and owner of HAL YAMASHITA.
Born in Ashiya, Kobe in 1969.
HAL's sense of taste has influenced and developed in Kobe where he grew up.
Since he has traveled and learned in many other countries, different cultures and culinary styles
have let him develop his own fusion style of cooking.
» Official Blog "CHEF'S TABLE"
» Chef's Instagram

AWARD
2016

Singapore Tatler Restaurant Awards
"Singapore's Best Restaurant" for Syun

2015

G Restaurant Awards
"Best New Restaurant (Asian)" " Award of Excellent "

2007

Zagat Survey
"Kobe's 5 Best Chefs"

2003

Nikkei Restaurant Menu Grand Prix
"5 Best Chefs in Japan"

2002

Nikkei Restaurant Menu Grand Prix
"100 Best Chefs in Japan"
ACTIVITY
2016

"HAL YAMASHITA x Ruinart "Special Promotion at Shinjuku ISETAN
Guest Chef of Luxury Liner ASUKA

2015

"HAL YAMASHITA Fair" at Intercontinental Bali

2014

"TED×Sannomiya" Lecture about Japanese Spirit and Creative Thinking

2012

Representative of Japanese Master Chef at World Gourmet Summit in Abu Dhabi
Director of The Board of Cooking Volunteer

2011

Established "HAL YAMASHITA Everyone's Drinking Water to The Disaster Area! Fund"
After Japan's Tohoku Earthquake

2010

Representative of Japanese Master Chef at World Gourmet Summit in Singapore
Special Advisor to The United Nations World Food Programme
"HAL YAMASHITA Cuisine Fair" at St. Regis Singapore
Created Special Menu at Mercedes Benz's Private Event
Created Limited Menu at Nakata.net café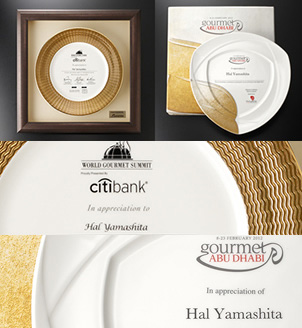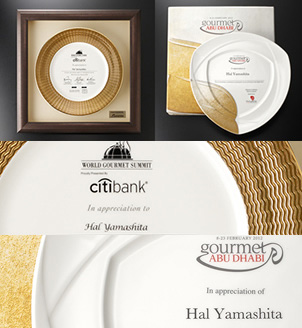 NEW JAPANESE CUISINE
Traditional Japanese food has been handed down from long ago through the generations.
Shin-washoku or "New Japanese Cuisine", must still retain the core of using
the best ingredients and the passion that was handed down.
Ingredients, preparation and presentation methods have been evolving drastically
through the generations however, these changes are more subtle to the customer.
We seek for the best ingredients and serve the dish with the best service.
This is what we call "Omotenashi"
which is traditional Japanese way of hospitality with dedication.
"New Japanese Cuisine" sounds new but
it would somehow bring back memories and make you taste and feel something familiar.
STYLE
I believe that "New Japanese Cuisine" is essential in global society.
We always do our best to meet customer's needs flexibly with the special care,
not only to those with food allergies but also vegetarian, vegan, friendly-halal and gluten-free.
We have to adjust our mindsets, skills and styles of cooking as the food environment changes.