Ehomaki Sushi Rolls for Good Fortune!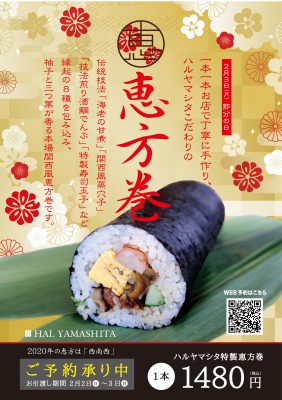 Ehomaki is a type of thick sushi roll, which is believed to bring good fortune if eaten while facing the year's "Eho" which means good direction.
Our Ehomaki sushi rolls are delicately made piece by piece, with ingredients such as sweet-stewed prawns, Kansai-style steamed conger eels, sea bream fish floss, and sushi egg rolls.
These Kansai-style rolls are simple yet filled with the passion and love of our chefs.
HAL YAMASHITA Special Ehomaki Sushi Roll (1 piece)
1,480 yen (Tax inclusive)
The HAL YAMASHITA Special Ehomaki Sushi Rolls are only available for a limited period of time at the following restaurants:
・HAL YAMASHITA Tokyo
・NADABAN by HAL YAMASHITA
・HAL YAMASHITA Otemachi Lounge
2 dates available for pick up: 2nd and 3rd February
Only a limited number of these Ehomaki sushi rolls are available.
For reservations, please click here.
(Website only available in Japanese)