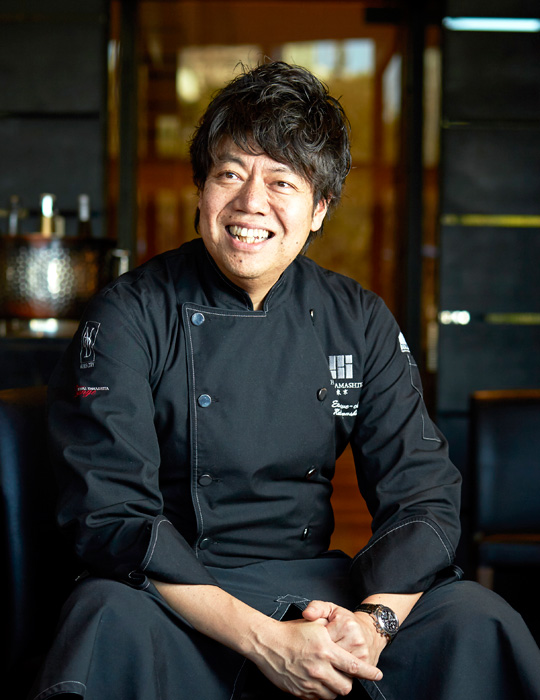 HAL YAMASHITA Tokyo
Thank you for visiting our website.
With the increasing business offers locally within Japan, overseas as well as volunteer work,
I recently have not had the chance to be in the restaurant to interact and engage with our customers as I did before. A restaurant that is able to create an intimate, one-of-a-kind dining experience
is one that I love. Let us be a part of that valuable time you are giving to dine at our restaurant,
to create that experience and put a smile on all of your faces through my cooking.
We have thereupon, decided to disclose the dates that I will be working in the restaurant's kitchen.
Your smile gives us the the encouragement, the push to strive and work harder. I look forward to seeing you smile, to create a special moment through our every plate.
HAL YAMASHITA Tokyo
Executive Chef
Hal Yamashita
※ Please be informed that the schedule may be subject to change under certain circumstances.
We thank you for your understanding.
※If you are viewing this website on your phone,
hold your phone horizontally for better view of the calendar.
HAL YAMASHITA東京本店
ホームページをご覧いただきありがとうございます。
国内他店舗、他ブランドでのお仕事、海外でのお仕事、
外部でのお仕事、ボランティア活動も多くなり、
お客様と直接お顔を合わせておもてなしさせて頂く機会が、以前より少なくなって参りました。
「お客様の笑顔」をより近く感じることのできるレストランが私は大好きで、
その機会を節に願っております。
皆様の大切な時間をお店という空間で私も一緒に過ごさせていただきたいと
日々願っております。
生意気ながらも、私共が厨房におります日を公開させていただく事にいたしました。
お客様の「美味しい笑顔」にお会いできるのを楽しみに、お店でお待ち申しあげております。
ぜひ私どもにお客様の素晴らしい時間をお過ごし頂けるお手伝いをさせてください。
心をこめておもてなしさせていただきます。
合掌
HAL YAMASHITA東京本店
エグゼクティブシェフ 山下 春幸
※なお突発的なスケジュールの変更等ございます場合もありますので、
ご理解の程よろしくお願い申し上げます。
※携帯電話でご覧の際は、携帯電話を横向きにしていただくと、
カレンダーの内容が見やすく表示されます。